Iain Mc Allister – Glen Scotia Distillery
Glen Scotia är ett av tre whiskydestillerier som idag är verksamma i staden Campbeltown. Nyligen köptes det upp av Loch Lomond Distillery Co. och har sedan genomgått en upprustning. Man bytte dessutom standardsortiment i och med att de nya ägarna klev in.
Vi kontaktade dem och fick möjlighet att intervjua destillerichef Iain Mc Allister. En intervju där han berättar hur han ser på destilleriets ovanligt långa jäsningstid och framtiden för destilleriet. I vanlig ordning publicerar vi intervjun i originalspråket engelska, men med en svensk översättning längst ned.
Denna intervju inleder en Glen Scotia vecka där vi dessutom kommer att recensera 3 av destilleriets whisky ur deras standardsortiment. Så häng med oss under veckan!
Please, introduce yourself to our readers? 
My name is Iain Mc Alister; I am the Distillery Manager at Glen Scotia Distillery in Campbeltown. I have held this position for 9 years and I was lucky enough to be born in Campbeltown.
How did you first get involved in the whisky industry? 
My first and hopefully only job in the whisky industry was at Glen Scotia Distillery, where I started as the distillery manager.
How would you describe the house style of Glen Scotia? 
The style of Glen Scotia is a relatively light whisky, combined with fruity notes – not too light though! This is balanced with a distinct maritime influence, with a background of saltiness and a light oiliness. This spirit benefits from first fill bourbons, which develop the whisky character further.
There has been large investments in Glen Scotia lately. Will there be more investments? 
We have undertaken renovating our onsite warehouses; to facilitate extra storage for our increased production, as well as giving the whole distillery a very sensitive upgrade, whilst being careful to not lose the distillery character. Our investment is ongoing, as we are always looking at ways to be as efficient and produce first class spirit.
You have increased the fermentation time at Glen Scotia lately. Why is that? 
Our fermentation time(s) are directly related to spirit quality, so we always leave for a minimum of 70 hours – benefiting from secondary fermentation etc, which imparts the Glen Scotia fruity notes at this stage. We also have certain washbacks that are left for longer, sometimes over 100 hours if left over the weekend!
You probably have the shortest middle cut in the industry. From 71% to 68%. What is the reason for this decision? 
We have had periods of experimentation and this was one of them! We currently operate from 71% to 63% middle cut.
Why did the core range of 2012 change in 2015? 
The core range of 2012 was a bit adventurous when compared with available stocks, so with the new owners came new ideas and a new core range. The existing distillery range is fantastic and a lot more in keeping with the distillery flavour profile and indeed Campbeltown image and ideals.

Please guide us through the new core range of Glen Scotia.
Double Cask 
A combination of first fill bourbon and PX sherry casks produce this outstanding malt that has a perfect balance of rich spicy fruits overlaid with characteristic sea spray and vanilla oak finish.
15YO 
15 years in bourbon and finished in Oloroso sherry casks produce this award winning Glen Scotia malt – citrus peel and ginger snaps produce a wonderful depth to this malt.
Victoriana 
Superb Glen Scotia malt that harks back to long gone times! Victoriana is a combination of both bourbon and deep char casks, bottled at 51.5%, which gives a wonderful mildly smokey aroma with dark berries and spicy fruit.
Will we see more additions to your core range or maybe some special editions? 
Yes we already have Distillery Special Editions 1 to 3, with a single cask bottling for the recent open day. This will soon be complemented with further additions to the distillery range
What is your favourite from your core range? 
As I am involved in all the Glen Scotia whisky making process, I have a biased approach, but I really like the Double Cask Whisky, as it promises so much in future years.
What´s your five favorite drams that you have not been involved in? 
In order I like:
Bowmore 15 year old
Aberlour A'bunadh
Laphroaig Triple Wood
Bourbon – Knob Creek
Have you tried any Swedish whisky? If so, what did you think of it? 
As a nation you are probably the number one visitors to Glen Scotia Distillery and the Nordic region is going to become very strong in whisky. I have yet to try Swedish whisky, so please give me a few pointers.

If you could have 3 people of your own choice for a whisky tasting, who would you invite and why? (alive or dead).
Very good question.
I would invite the original Glen Scotia Manager to compare notes!
Winston Churchill as he enjoyed a good dram and a cigar and we could discuss world affairs.
All your readers, so we could discuss what the first two thought, over a dram of course!
What is your opinion on chill filtration and the adding e150a in whisky?
To be really honest, I think we are getting hung up on these aspects of whisky making, if it is clearly marked on each bottle, then we all can make our own decisions. There are a lot of aspects to whisky making and this is a very small part.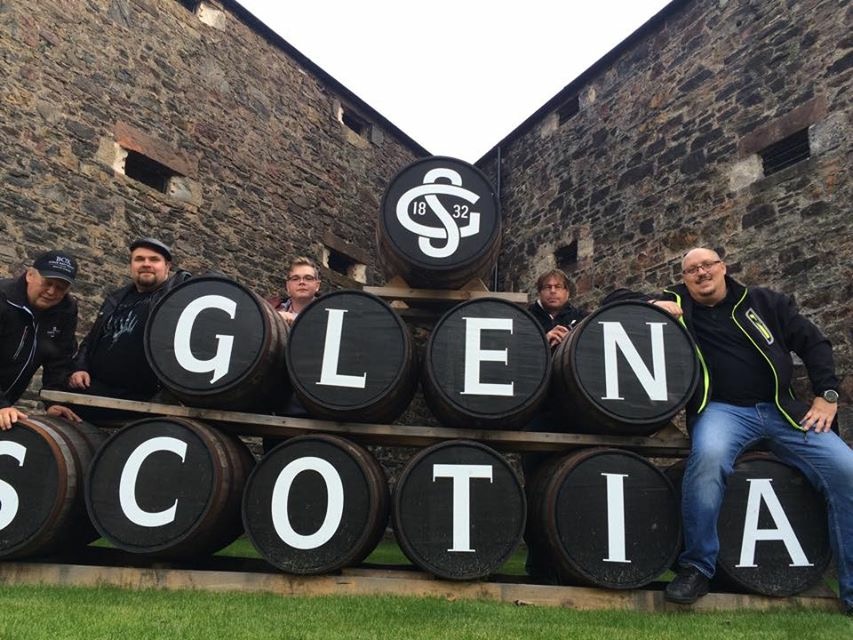 Do you have any whisky advice to our readers?
Always enjoy whisky and company to its fullest, as good company is what makes whisky both interesting and memorable.
Finally: Anything you would like to add?
Come and visit Glen Scotia Distillery and enjoy a dram with me!
---
Här följer en svensk översättning:
Vänligen, presentera dig för våra läsare?
Jag heter Iain Mc Allister. Jag är destillerichef på Glen Scotia Distillery i Campbeltown. Jag har haft detta uppdrag i 9 år och är lyckligtvis född och uppvuxen i Campbeltown.
Hur kom du i kontakt med whiskyindustrin från början?
Mitt första och förhoppningsvis enda jobb i whiskyindustrin var hos Glen Scotia Distillery, då jag började som destillerichef.
Hur skulle du beskriva Glen Scotias husstil?
Stilen är en relativt lätt whisky, kombinerad med fruktiga toner – dock inte för lätt! Det är en balanserad whisky med maritima inslag, med en bakgrund av sälta och lätt oljighet. Den drar nytta av first fill bourbonfat, som utvecklar whiskyns karaktär ytterligare.
Det har varit stora investeringar som lagts på Glen Scotia på senare tid. Kommer det att investeras ytterligare framöver?
Vi har renoverat våra befintliga lagerhus för att skapa extra lagringsutrymme för att möta vår ökade produktion. Samtidigt som vi har gett hela destilleriet en försiktig uppgradering, utan att förlora destilleriets karaktär. Satsningen fortgår eftersom vi hela tiden letar efter nya sätt att vara effektiva och fortsätta producera första klassens sprit.
Ni har förlängt jästiden på senare tid. Varför?
Vår jäsningstid är direkt relaterad till kvaliteten på spriten, därför låter vi den vara minst 70 timmar – och på så sätt dra nytta av en andra jäsning m.m. som under detta skede ger de fruktiga tonerna i Glen Scotia. Vi har också utvalda jäskar som vi låter stå ännu längre, ibland över 100 timmar om de får stå över en helg!
Ni har förmodligen den kortaste "middle cut" i hela industrin – mellan 71% till 68%. Vad är anledningen till detta?
Vi har under perioder experimenterat och detta var en av dessa gånger. Nu tar vi "middle cut" mellan 71% och 63%.
Varför ändrade ni 2012 års sortiment under 2015?
2012 års sortiment var en aning vågat med tanke på vårt lager, så med de nya ägarna kom nya idéer och ett nytt kärnsortiment. Det befintliga sortimentet är fantastiskt och mycket mer i linje med destilleriets smakprofil och återspeglar faktiskt även Campbeltown och dess ideal.
Skulle du kunna guida oss igenom sortimentet av Glen Scotia?
Double Cask
En kombination av first fill bourbon och PX sherry fat skapar denna enastående malt, som har en perfekt balans mellan rik kryddig frukt och karakteristiska havsinfluenser och ett vaniljekigt slut.
15YO
Lagrad 15 år på bourbonfat och med slutlagring på Oloroso sherryfat skapar denna prisbelönta Glen Scotia malt. Citrusskal och pepparkakor ger ett underbart djup till denna malt.
Victoriana
Superb Glen Scotia malt som går långt tillbaka i tiden! Victoriana är en kombination av både bourbon och kraftigt kolade ekfat, buteljerad vid 51,5%, vilket ger en underbar milt rökig doft med mörka bär och kryddig frukt.
Kommer vi att få se ytterligare utgåvor till kärnsortimentet eller några special utgåvor?
Ja, vi har redan Distillery Special Editions 1 till 3, med en single cask utgåva för vår nyliga öppningsdag. Denna kommer snart att kompletteras med ytterligare utgåvor till kärnsortimentet.
Vilken är din personliga favorit i sortimentet?
Eftersom jag är involverad i alla delar i whiskytillverkningen är jag partisk, men jag gillar verkligen Double Cask whiskyn, eftersom den lovar så mycket under de kommande åren.
Vilka fem favoriter har du som du inte själv varit involverad i?
Jag gillar dessa i följande ordning:
Bowmore 15 years old
Aberlour A'bunadh
Laphroaig Triple Wood
Bourbon – Knob Creek
Har du provat någon svensk whisky? Vad tyckte du i så fall?
Som nation är ni nog det land som vi får flest besökare från till vårt destilleri, och den nordiska regionen håller på att bli väldigt starkt när det gäller whisky. Jag har ännu inte provat någon svensk whisky, så ni får gärna ge mig några tips.
Om du fick hålla en provning för tre valfria personer, vilka skulle du bjuda in och varför? (levande eller döda)
Mycket bra fråga.
Jag skulle bjuda in den första chefen på Glen Scotia för att jämföra noter!
Winston Churchill eftersom han gillade en god dram och en cigarr och vi skulle diskutera värdsliga ting.
Alla era läsare, så vi tillsammans kunde diskutera vad de två första (ovan) tyckte, över en dram så klart!
Vad är din åsikt rörande kylfiltrering och att addera e150a i en whisky?
För att vara fullständig ärlig så tycker jag att vi hänger upp oss på dessa aspekter i whiskytillverkningen. Om det står klart och tydligt på varje flaska kan vi göra våra egna val. Det finns många aspekter i whiskytillverkningen och dessa är bara små detaljer.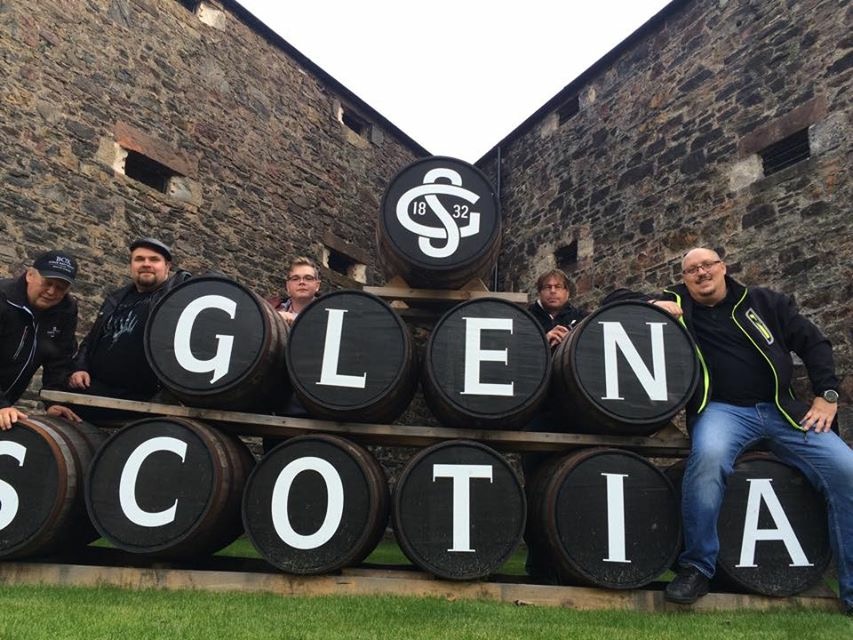 Har du något whiskyråd du vill dela med våra läsare?
Njut alltid av whisky och sällskap fullt ut! Ett gott sällskap är vad som gör whisky både intressant och minnesvärd.
Till sist: Är det något du önskar tillägga?
Kom och besök oss på Glen Scotia Distillery och njut av en dram tillsammans med mig!