Wales har en lång historia av destillering. Man tror att kunskapen går så långt tillbaka som till 400-talet. I slutet av 1800-talet fanns det ett whiskydestilleri som tillfälligt var i drift, men som lades ned efter att nykterhetsrörelsen lyckades stoppa laglig destillering under mer än 100 år. Men den 14 september år 2000 skapades det historia i Wales när den första destilleringen utfördes vid Penderyn Distillery. För att besöka deras hemsida, klicka här.
Vi beslöt oss för att prova Penderyns whisky och inleder vår Penderyn-vecka med en intervju med Managing Director Stephen Davies, som bland annat berättar om den mycket speciella panna man använder för att destillera. Vi får även veta att Penderyn tar fram den starkaste råspriten i industrin (92% ABV). Under kommande dagar kommer vi att prova och recensera 4 olika whiskys från detta unika destilleri.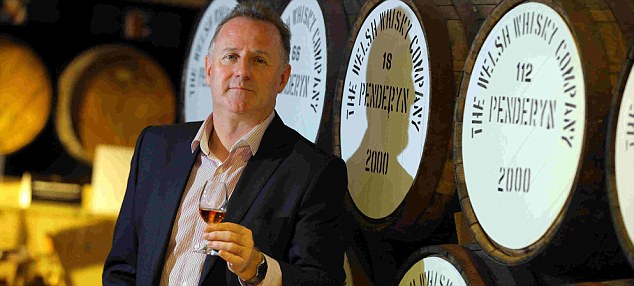 Please introduce yourself to our readers and tell us the story behind the first whisky distillery in Wales?
My name is Stephen Davies and I am the Chief Executive of Penderyn Distillery in South Wales. We produce award-winning Single Malt Whiskies and other spirits. Wales has a history of distilling, but the last distillery closed down over 100 years ago. We started distilling in 2000 and launched our first bottle on St David's Day (the Welsh patron saint) in 2004 when Prince Charles officially opened the distillery.
How did you first get involved in the whisky industry?
I worked in the steel industry and when the owner of the company moved into the whisky business I was asked if I was interested in becoming managing director. One sip of Penderyn and I was convinced!
How would you describe the house style of Penderyn?
Our house style is a Madeira finish. All our whisky starts off life in bourbon casks and is then finished in a number of different ways. When we started we used ex-Madeira wine casks initially, so whilst we now use different finishes Madeira is the one we are most associated with
There has been large investments in Penderyn lately. Will there be more investments?
As the business grows there will inevitably be more investment as we increase production. Indeed we have just announced that we are part of a multi-million plan to develop the Copper Quarter area in Swansea, close to the Liberty Stadium, home of premier league side Swansea City FC, and open a second distillery and visitor centre there in 2019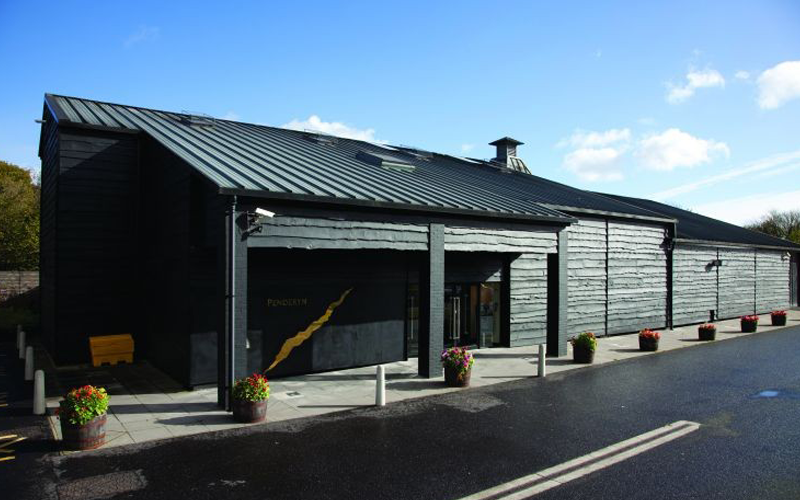 Do you distil other spirits than whisky at Penderyn?
Yes, we make 2 types of gin (Brecon & Brecon Botanicals), Brecon FIVE vodka and Merlyn, which is our own cream liqueur.
Please guide us through the core range of Penderyn.
We have 4 identifiable ranges
Gold Seam
This is our 46% range of whiskies, and current finishes include Madeira, Peated and Portwood… with Sherrywood rejoining the range soon after a period when stocks have been very limited due to high demand. Welsh Gold has been worn by kings and princes throughout history, and the seam is an important part of the branding.
Welsh Dragon
This is a 41% range and is made up of Legend (a Madeira finish); Myth (a bourbon and ex-red wine cask finish) and Celt, a peated finish. The Welsh flag famously sports a dragon, and it's been part of our history since Roman times.
Icons Of Wales
These are limited edition bottling that celebrate a notable event or person in Welsh history. There have been 4 of these to date.
Special Editions
Our master distiller, Dr Jim Swan, will occasionally select one or two of the very best Penderyn single cask whiskies for special bottling. These come in handmade boxes are individually numbers and /or signed by a member of the Penderyn team.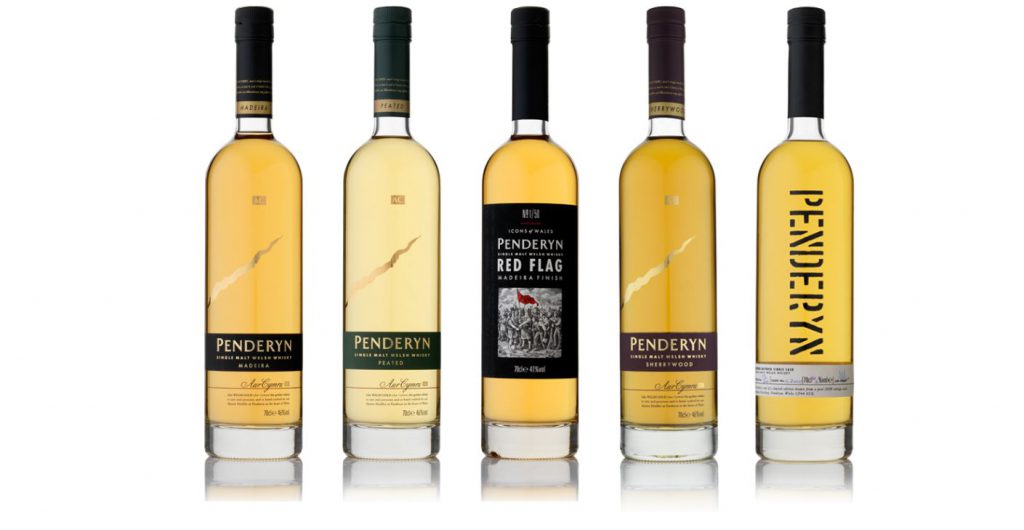 Will we see more additions to your core range or maybe some special editions?
Recently we have develop a 'bourbon' finish using bourbon and ex-red wine casks. Once we can use the spirit from the lantern stills we installed in 2014 we plan on experimenting using a combination of spirit from both our original Penderyn stills and the lantern stills. We are always looking at ways of being innovative.
What is your favourite from your core range?
I'm really fond of Celt, which is our new 41% Peated Finish whisky. It has the lightness that you'd expect from our range, with added smokiness.
What´s your five favourite drams that you have not been involved in?
Compass Box Hedonism
I am a huge admirer of the whiskies John Glazer producers, and have been a fan of this particular grain whisky for many years.
The Macallan
My late father introduced me to this around 30-odd years ago, so apart from enjoying this sherry matured whisky, it has a strong emotional connection as well.
Isle Of Jura Superstition
This has been a personal favourite for many years. I particularly like the light fruity style of the Jura range.
Buffalo Trace Bourbon
I've been lucky enough to visit the Louisville distillery on two occasions as we purchase many of our casks from them. I learnt a lot about bourbon there and whilst I'm fond of many bourbons, Buffalo Trace is my favourite.
Kavalan Solist
Kavalan produce an interesting range and I'm intrigued by their maturation conditions which are very different to our own. I admire the work of Dr Jim Swan and Ian Chang and I like the Solist bourbon cask in particular.
Have you tried any Swedish whisky? If so, what did you think of it?
Yes, I have tasted some of the Mackmyra range and am very interested in their style and presentation. I am fascinated in the worldwide growth in the industry. There are some very exciting ventures out there.

Tell us about the unique distillation process at Penderyn?
We use a single column pot still which is unique to Penderyn. It was invented by Dr David Faraday, a descendent of the great Victorian physicist, Michael Faraday.
As the steam heats the liquid it starts to bubble and the vapour rises into a copper column above the still. The column has a number of perforated plates and the vapour will condense on the first plate before being returned to the still. As the process continues the vapour will reach the second plate and so on, before evaporating and falling back to the still, each step leaving the spirit smoother, softer and more refined. Eventually the spirit is drawn from the seventh plate on the second column and piped to our spirit safe where it lands, literally drop by drop, over the course of the day.
Arriving at the spirit safe at an industry high of 92% ABV, our spirit is clean, light and flavourful and this fact becomes crucial during cask ageing and styling of our whisky.
Your new make is distilled to a very high ABV. What is the decision behind that and how does that affect your whisky? How high ABV do you have when you put the new make in casks?
As explained above, that's how the spirit comes off the still. This process not only imbues our raw spirit with great complexity, depth and finesse, but also improves dwell time with the copper and removes many of the undesirable chemical compounds – something that a conventional two or three pot still system cannot achieve. Even at 92% the spirit is still very light and fruity. We now have 2 of these stills, as well as a pair of more traditional pot stills which were commissioned in 2014 as part of our distillery expansion.
We generally cask at 63.4%.
If you could have 3 people of your own choice for a whisky tasting, who would you invite and why? (Alive or dead).
I'd have to invite my three heroes: musician Elvis Costello, actor Sir Anthony Hopkins, and the great Swansea & Wales footballer, Robbie James. The only trouble is that the first two no longer drink, and the last one is no longer with us!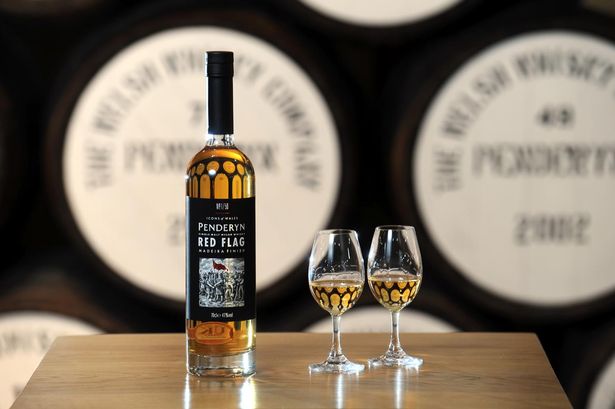 What is your opinion on chill filtration and the adding e150a in whisky?
We don't chill filter even though we bottle at 41%, and all the colours in our whisky are natural.
Do you have any whisky advice to our readers?
The whisky world is expanding pretty rapidly. I would encourage people to explore the new whisky companies across the globe.
Finally: Anything you would like to add
We are very excited about our Penderyn Celt Single Malt Whisky being imported into Sweden. It is a light but smoky whisky in which the smoke derives from barrel maturation, and is bottled in an unique style when compared to other smoky whiskies. Apart from that, thanks for the questions! If any of your readers are ever in Wales, do pay us a visit.