In the autumn of 2014 the Last Great Malts had its world premiere. This gave us the opportunity to discover the hidden treasures of Aberfeldy, Aultmore, Craigellachie, The Deveron and Royal Brackla distilleries. Stephanie MacLeod is the Master Blender and Malt Master for John Dewar & Sons Ltd. With a university graduation in food science, she has a perfect knowledge about taste and scents. We are very happy to have the opportunity of interviewing her and learn more about the company's thoughts about the Last Great Malts.
Today we publish the interview with Stephanie MacLeod, and during the following five days we will taste and review whisky from each of the distilleries which is included in the Last Great Malts.
For Swedish readers: Ni har möjlighet att vinna fina priser i samband med vår The Last Great Malt-vecka. Besök vår Facebooksida för mer information om hur du kan vinna fina priser som Bacardi ställt upp med. Ni hittar vår Facebooksida här.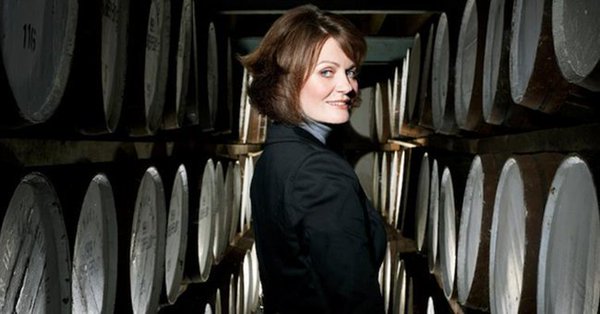 Hi Stephanie! Please introduce yourself to our readers?
Stephanie Macleod, Master Blender and Malt Master for John Dewar & Sons Ltd – I've been in post since 2006
How did you first get involved in the whisky industry?
I started off in flavor research at the university of Strathclyde as a researcher in the centre for food quality – amongst other areas of study our group focused on the relationship between the chemical structure of whisky and it's flavor – we were trying to unlock the maturation secrets of whisky…….I'm thankful now that to date no one has managed to do that! Part of the joy of being a blender is that you're never 100% sure of what you're going find in a cask.
Please introduce the different distilleries that you call The Last Great Malts?
Aberfeldy – it's a 'Highland' malt whisky and the only distillery to be built by the Dewar's family in 1898
Royal Brackla – a 'Highland' malt whisky, from the still house it has the most wonderful tranquil view that I have ever seen.
Macduff – a Highland malt whisky, set by the sea. Our youngest distillery built in the 60s.
Aultmore – a classic 'Speyside'
Craigellachie – a 'Speyside' worm condensers reduces the copper contact and bestows a much heavier character on the spirit.

How would you describe the house-style and character of:
Aberfeldy:
Approachable yet complex and interesting Highland Malt – intense honey sweetness, toasted cereal, sharp citrus, creamy vanilla and a wisp of smoke to finish.
Craigellachie:
A Speyside, but not as you know it! Pineapple chunks in syrup, vanilla and a burst of cordite.
Macduff/Deveron:
Often incorrectly referred to as a Speyside, it's not, Macduff is a definite Highland malt. Big fruity notes, toffee, balanced with dry cereal.
Aultmore:
A delicate, ethereal Speyside whisky – perfumed, herbal and a bed of sweet malt.
Royal Brackla:
An elegant Highland malt whisky, leafy and estery with succulent vine fruits.
How long has this launch been in the pipeline?
Aberfeldy and Macduff (Glen Deveron) have been around for many years, we always wanted to launch the rest of our malts but the timing was never quite right. However once we decided to go for it, we very quickly built a range.
How long has it taken to develop the different stories/identities of the different distilleries?
The stories of the distilleries are true stories and just had to be unearthed – as with the identities or as I would refer to it as the flavor profile – I had a clear view of the flavor profile we wanted for each Distillery and each age variant – so any casks samples that don't fit with that ideal – are not used for the single malts.

Why does it difference in the ABV between the distilleries?
Aberfeldy and Deveron were existing malts and so we kept them the same strength. Craigellachie and Aultmore we decided to go for 46% which allows us not to Chill Filter.
For how long can we expect new expressions from the distilleries in the Last Great Malts launch?
I hope these will be a permanent fixture of the Dewar's range.

What's your favorite whisky in the core range of the Last Great Malts and why?
Ah, that's like asking me to choose my favorite child!! Impossible!! Each distillery has its own character which is expressed in a different way depending on its age and the type of casks it was matured in and so each one has its own place.
Have you tried any Swedish whisky? If so, what did you think of it?
Yes, I've tried 'Hven', I was at an Institute of Brewing and Distilling Dinner a few years ago and was sitting beside the owner of this distillery. He had brought a bottle for the table, it was very good and I was fascinated to hear that the distillery is part of the hotel. A perfect place for a holiday I think!
What do you think of the glut of NAS releases?
We are committed to age statements.
What's your three favorite drams that you have not been involved in?
I honestly couldn't choose – however the first whisky I ever tried was a Lagavulin!
How has the reaction been for The Last Great Malts?
We continue to see a strong demand for our whiskies – people have been asking me for years about our single malts, and I'm just so glad that they are finally all out there for our whisky drinkers to enjoy!

Do you have any whisky advice to our readers?
When I create a whisky I always hope that it will be enjoyed, so by all means collect whiskies and learn about them, but don't forget to savour them with good friends.
Finally: Anything you would like to add?
Slainte!