Laphroaig – One of the world's most famous whiskies! We are very happy to be able to give you an interview with Master Distiller John Campbell. An interview you do not want to miss!
The interview also is the beginning of a Laphroaig week here at Whiskytower, where we the following five days will review five different editions of the distillery's excellent whiskies.
For Swedish readers: I samband med vår Laphroaig vecka kommer vi att ha en utlottning av 6 whiskyprovarglas från Laphroaig. Läs mer i botten av denna artikel.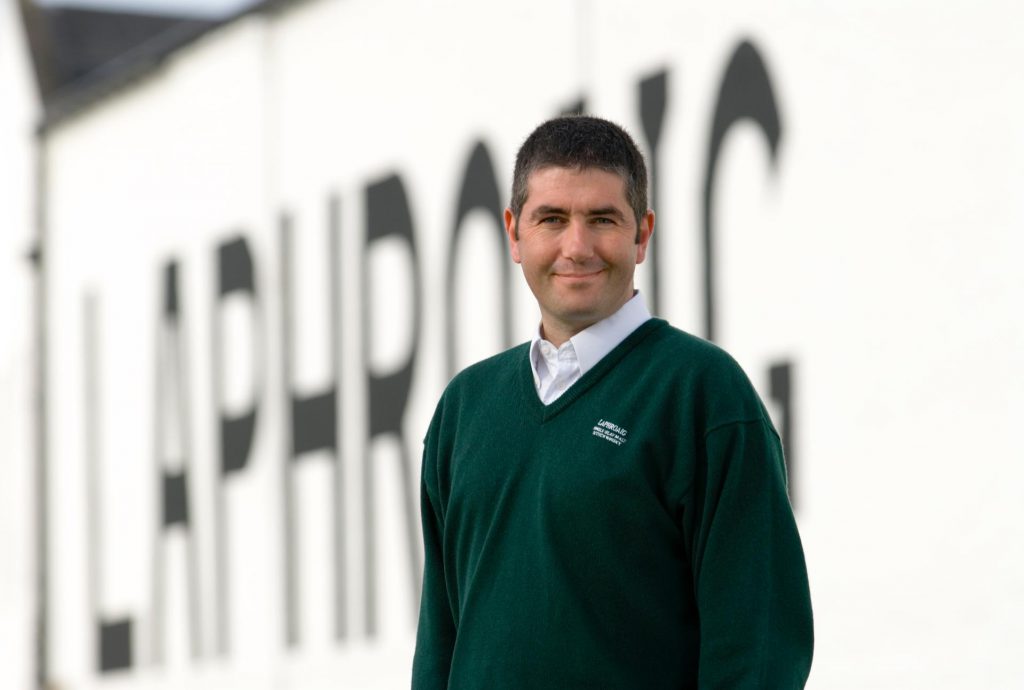 Hi John! Please introduce yourself to our readers?
Hi, I am John Campbell and I am lucky enough to be the master distiller of Laphroaig distillery on Islay.
How did you first get involved in the whiskyindustry?
I was a lobster fisherman originally and it was very seasonal and so I decided that I needed something a bit more secure so I could get a mortgage. So I took a pay cut and started off at Laphroaig on November 14th 1994 and my first job was stencilling the number on the casks. Wanted to work at Laphroaig as I used to play football in the then managers Garden (Dennis Nicol).
Which is your proudest moment in your whisky career?
This is hard I have lots, meeting Prince Charles was very cool. Creating the single cask bottling's that would become Cairdeas or even this year creating Laphroaig Lore.
How would you describe the house character of Laphroaig?
House style of Laphroaig is Peaty, Earthy, Medicinal, Salty, Fruity and floral notes too….. the depth is amazing.
What would you say makes Laphroaig unique?
The key things I would say are making our own malted barley, 7 stills and 2 different sizes in the second distillation, maturing on Islay and Makers Mark casks all go into making Laphroaig unique.
When we buy a bottle of Laphroaig we can register on www.laphroaig.com and claim a plot of land at the distillery. How many has done that and how many has actually been to the distillery and claimed their plot?
There are close to 800,000 FOL's and I am not sure how many of the total have collected rent!! Good question, I need to find out!. Last year we had 80 different countries and 25,000 visitors to the site.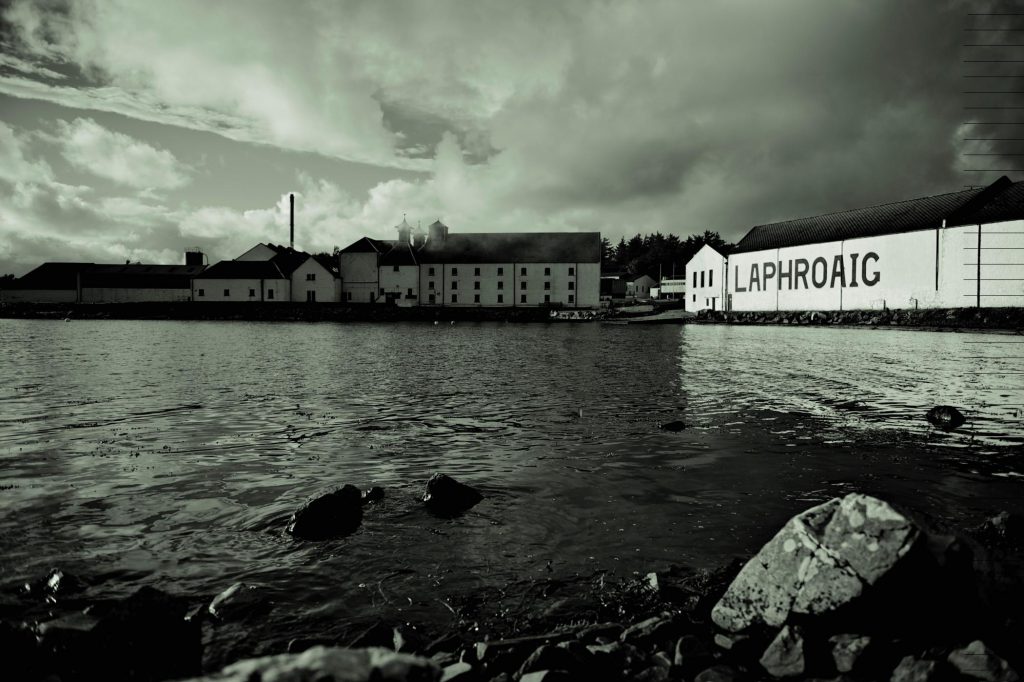 You have a lot of visitors from Sweden. What's your opinion of them?
Yes Laphroaig is the Number 1 single malt in Sweden, so we are very thankful for this…. The Swedes have good fun and like good whisky, they seem to like a good song at the end of the day 🙂
Can you please guide us through the following whiskys from your range:
Laphroaig Select
Select is a combination of 6 different maturations to give a sweeter, drier and more approachable Laphroaig. It replicates the traditions Ian Hunter would have used at Laphroaig in the 1920's with mixing different styles together. The FOL's chose the winning recipe and the name for this brand. The 6 styles are First fill bourbon, Virgin American oak, Virgin European oak, Olorso Sherry, Quarter cask and PX sherry.
Laphroaig 10YO
This is the house style and most of what we sell. First fill bourbons for the maturation that give a lovely peaty, earthy, salty and fruity whisky.
Laphroaig Quarter Cask
Double matured from first fill bourbons into Quarter casks (that are specially made for us) this brand has more of an American oak influence so more vanilla, caramel toffee flavours, very creamy ashy and dry also with an Orangey finish.
Laphroaig Triple Wood
Triple wood we basically take the quarter cask liquid and put it into a Oloroso sherry matured hogsheads for a further 2 years to make our most complex whisky. Lots of levels of flavours in this one and a couple of drops of water I feel makes this an amazing whisky.
Laphroaig lore
4 main flavours were created in Lore. We are looking to show what makes Laphroaig richer than all other whisky's and the main characteristics we have already discussed. So we want peaty, fruity, floral and dry so I have added 6 different whiskys together to create this recipe. For Fruity I used 21 year old bourbons and 10 year old fully matured oloroso hogshead liquids, for Peaty I used 8 year old first fill bourbons (my favourite age of Laphroaig), for floral I used 8 year old Bourbons double matured into virgin European oak for 3 years and for the dry I used Laphroaig new spirit fully matured in quarter casks for 9 years (soo dry!!) and last liquid is a 15 year old liquid to add cask oils for depth of flavour.
Which one is your personal favourite?
This is easy, 10 year old is my favourite whisky. Such a great whisky.
What is your five favorite drams that you have not been involved in?
This is hard…. It depends on your mood!…..I like a rye whisky maybe Michters, its good, Spice tree from Compass box, Glenlivet 18 year old, Ardbeg 17 year old and Glendronach 16 year old. Should cover all sorts of days and emotions I feel.
Have you tried any Swedish whisky? If so, what did you think of it?
I have tried Mackmyra and Box whisky and they are both great….. There are no bad whiskies and it's always good to try new things. You can always learn from what others are trying and it's great to see them evolve.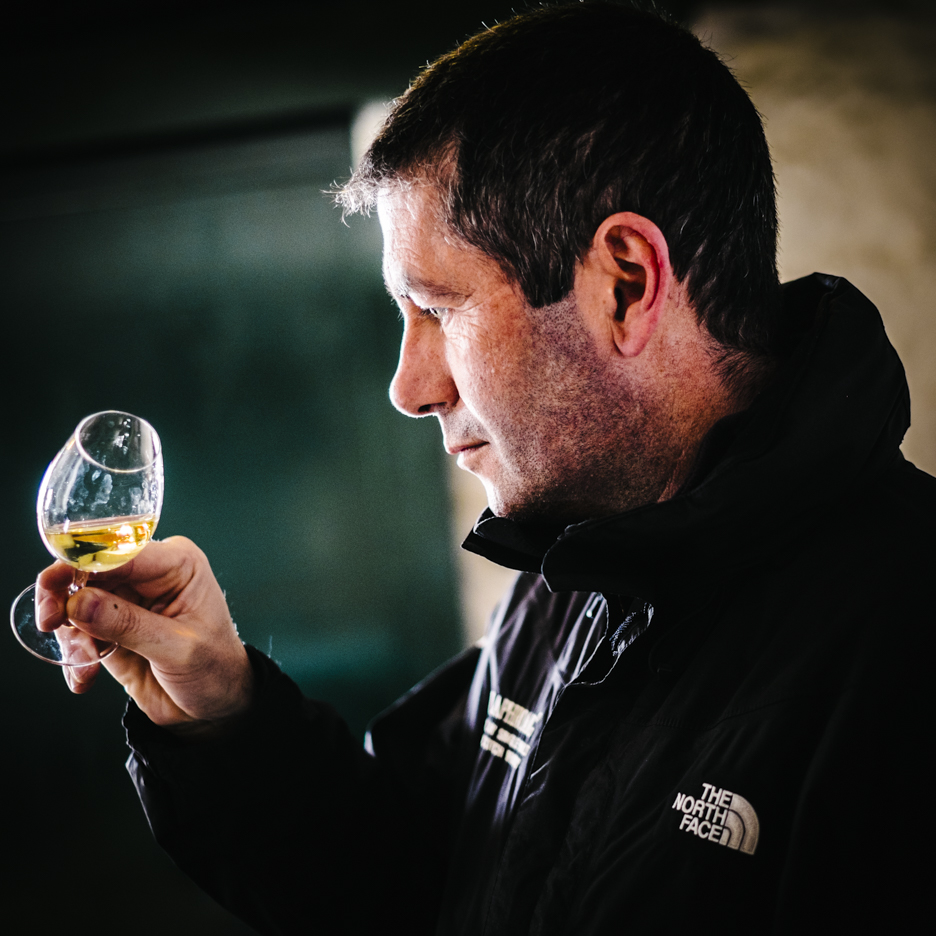 If you could have 3 people of your own choice for a whisky tasting, who would you invite and why?
3 is not enough for me! They are all alive and it would be my brother, my best friend and my dad if I had to choose. My family/friends are the most important thing in my life, and the people I want to be with the most.
What kind of food do you think suits a dram of Laphroaig?
Anything from the sea suits Laphroaig… fish, shellfish.
Do you have any whisky advice to our readers?
Only that you should have confidence in what you feel, and what you like. Don't let others tell you how you should feel, enjoy your journey of discovery in Whisky.
Finally: Anything you would like to add?
Nope thanks for the questions… they really made me think 🙂
---
For Swedish readers: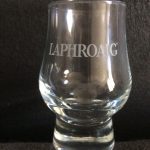 Vill du vara med och tävla om 6 whiskyprovarglas från Laphroaig? Besök då vår Facebooksida (länk) där du hittar tävlingen. Lycka till!