När Jim MacEwan gick i pension så lämnade han över Bruichladdich till Adam Hannett som då hade jobbat tio år vid hans sida. Vi har tidigare intervjuat Jim MacEwan (klicka för länkning) och vi är nu nyfiken på vem hans efterträdare är. Vi frågade helt enkelt om vi fick en intervju med honom och vänlig som han är så ställde han givetvis upp på det.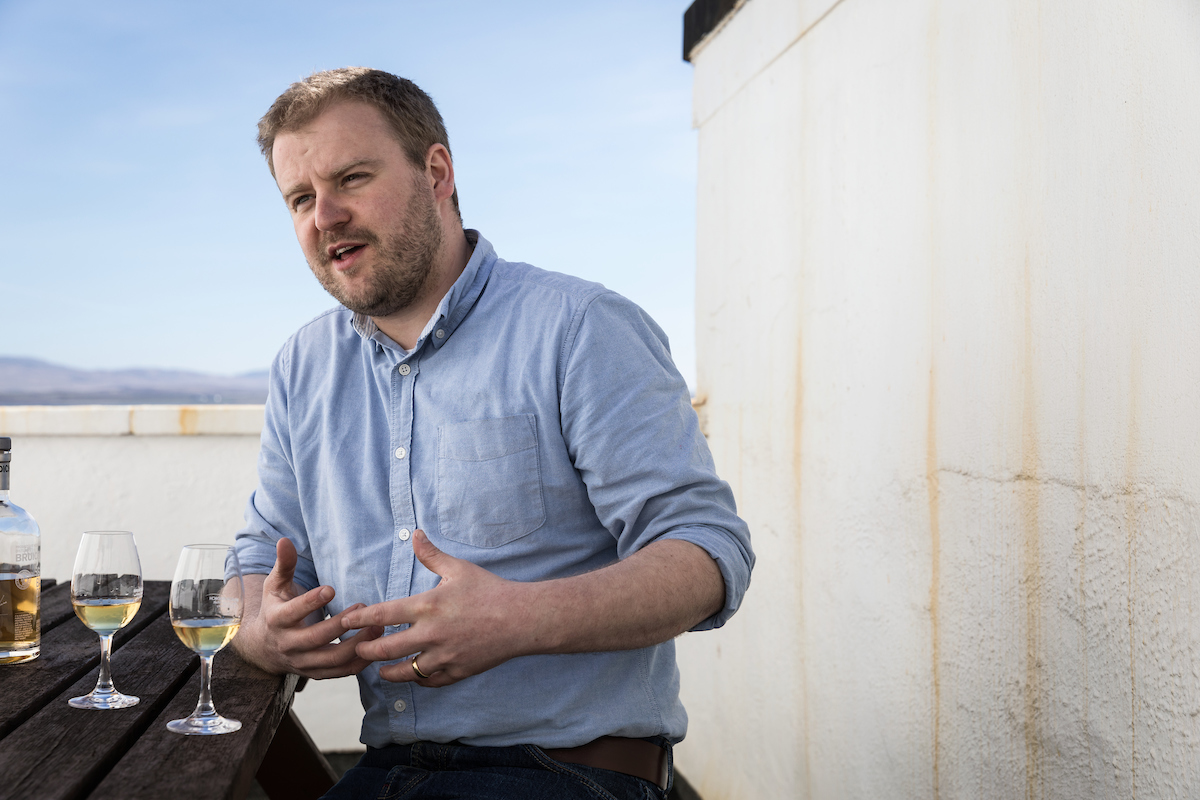 Hi Adam, Please introduce yourself to our readers?
Hi Readers, my name is Adam Hannett and I am the Head Distiller at Bruichladdich distillery on the isle of Islay. I oversee the production and blending for Bruichladdich, Port Charlotte, Octomore and the Botanist Gin.
How did you first got involved in the whisky industry?
Well, a good few years ago now I dropped out of university and came home to Islay to think about what I would do with my life. While I was puzzling over which direction to take I applied to Bruichladdich distillery for some work. The distillery had just got up and running a few years previously and it was very exciting for the island so I knew there could be the prospect of some kind of job but the other reason I applied was my father also mentioned that most distilleries would give out a bottle of whisky every month to their employees!
Ella Edgar who worked at the distillery at the time as the distillery PA put in a good word for me with Jim McEwan and I went down to the distillery to meet him. It was very intimidating to go into the distillery for the first time and meet Jim, but he offered me 6 months' work in the distillery shop and I gladly accepted.
After my first day learning more about the distillery and the process and meeting everyone I was absolutely hooked on Bruichladdich. The people here are fantastic and at the time I joined in 2004 there was a tremendous feeling of pride that the distillery had been brought back from the dead. It was a rollercoaster ride to keep the distillery and the company going and I was, and still am, immensely proud to have helped keep the ship afloat through those times.
A few days ago I spoke to Jim, who retired from Bruichladdich in 2015 and we were talking about the difference in the early days when we had nothing, no money, no resources except our hard work, determination and resourcefulness and how the distillery is prospering now. I could see how proud Jim was in being instrumental in the success of such a small independent company and growing it into what it is today. We both talked about how much fun it was in those days and the stories we all have from those times. It is sometimes easy to forget where we have come from as we move forward but for me the education in whisky making I was given is priceless and just as important is the feeling of belonging to this place. Having put so much into Bruichladdich over the years there is a special connection that makes you care deeply about the people and the distillery and its future.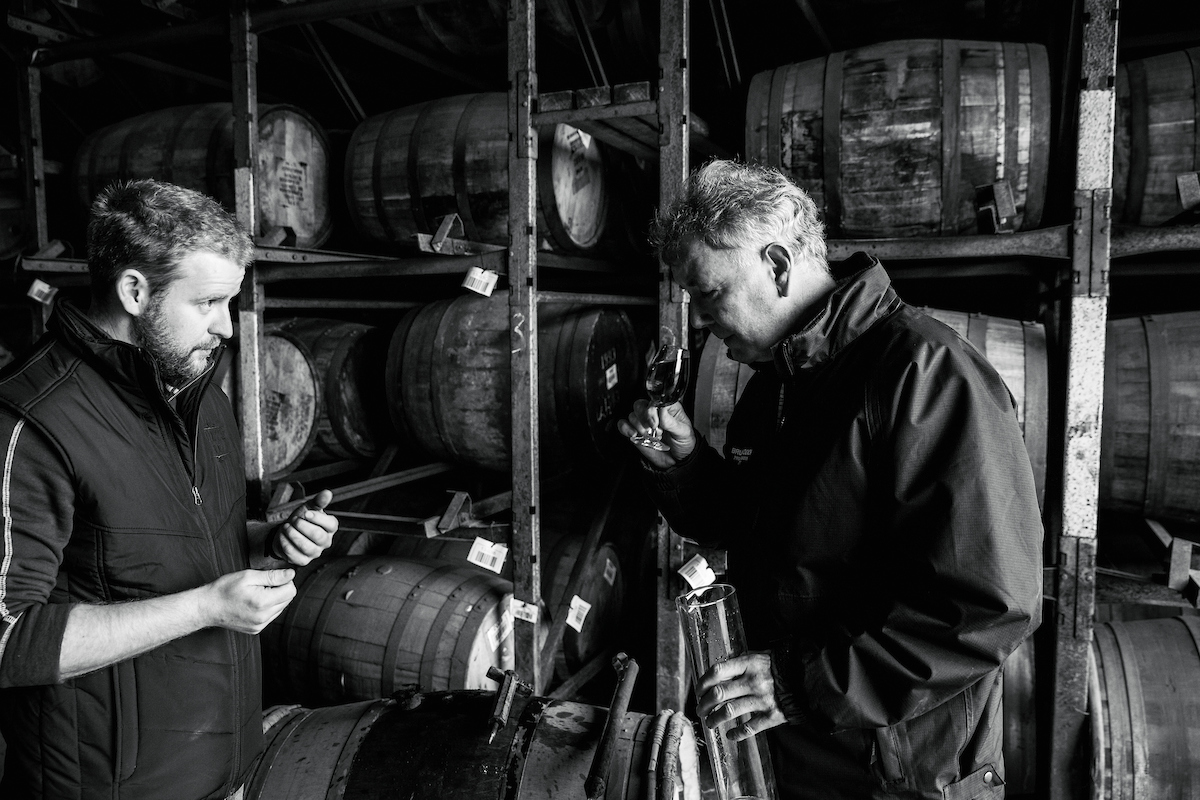 You worked for many years with Jim McEwan. How did it feel when he left you in charge?
I worked for Jim directly for 10 years and I learned a huge amount from him but also from everyone I have worked with here. Duncan McGillivray who retired as distillery manager a few years ago. Neil McTaggart who is also now retired was a still man and my next door neighbour and worked at Bruichladdich for about 40 years. Allan Logan who is my boss as Production Director and all the people who I have worked with in the warehouse, in the mash house, in the still house teaching me how to distil whisky over the years have had a huge influence because like me they are people who care about what we do here and how we do it.
This is more than a job it is a way of life and the way we retain the traditional skills of distillation is very important to us. With Jim however, as a mentor and a teacher he has been fantastic. The secrets and skills he has shown me and taught me over the years especially with regards to blending have been invaluable to me and just as important was his confidence in me when he did decide to retire.
The first Monday morning when I came into work and Jim was not here was surreal almost as we had never known Bruichladdich distillery without him but as time wares on and things change it is now normal without him and that is the way it should be, just as it will be when one day I am not here. The important thing to remember for us is that this distillery is bigger than any one person. Our job as the current custodians of the distillery is to work as hard as we can to look after and develop it for the time when we too have to step down and let the next generation take over. When we do so we must pass on what is important here, traditional distillation techniques and a reliance on men not machinery to shape the quality of our whisky just as we too were taught by Jim, Duncan and everyone who has worked here in the past.
Do you still have contact with Jim?
Yes, he lives next door to the distillery so we see him quite often. He doesn't come over to visit all the time but now and again he will pop in for a cup of tea and a chat when he isn't busy travelling the world or setting up new distilleries!
Tell us about the transparency campaign. You supported Compass Box. What are your thoughts about it?
For us the transparency campaign is very simply a way of communicating to people what it is we do. We have always been unique in the way we talk about our whisky. The fundamentals of whisky making we have always been very proud of here. The pillars of our beliefs if you like, are natural whisky, unchill filtered and caramel colouring free whisky, matured in the best casks we can find from around the world and distilled from 100% Scottish barley with a reliance on people not computers to make it. So there is nothing we do we are not proud of.
We have always looked for ways to communicate these ideals to people and to be open and honest about what we do because going back a few years in the whisky industry that wasn't necessarily the case with most distillers. So being transparent about how some of our whiskies are blended together seemed like a logical next step and internally we had been developing plans to provide the information on which casks and ages were blended for our Classic Laddie to customers. At the same time we heard about Compass Box and the trouble they were in for releasing their information and so we worked hard to finish our project on the Classic Laddie to show some support. Also we believe we are fundamentally doing the right thing in communicating how complex and interesting the Classic is by giving information to people who have already bought a bottle of the whisky on how it was created.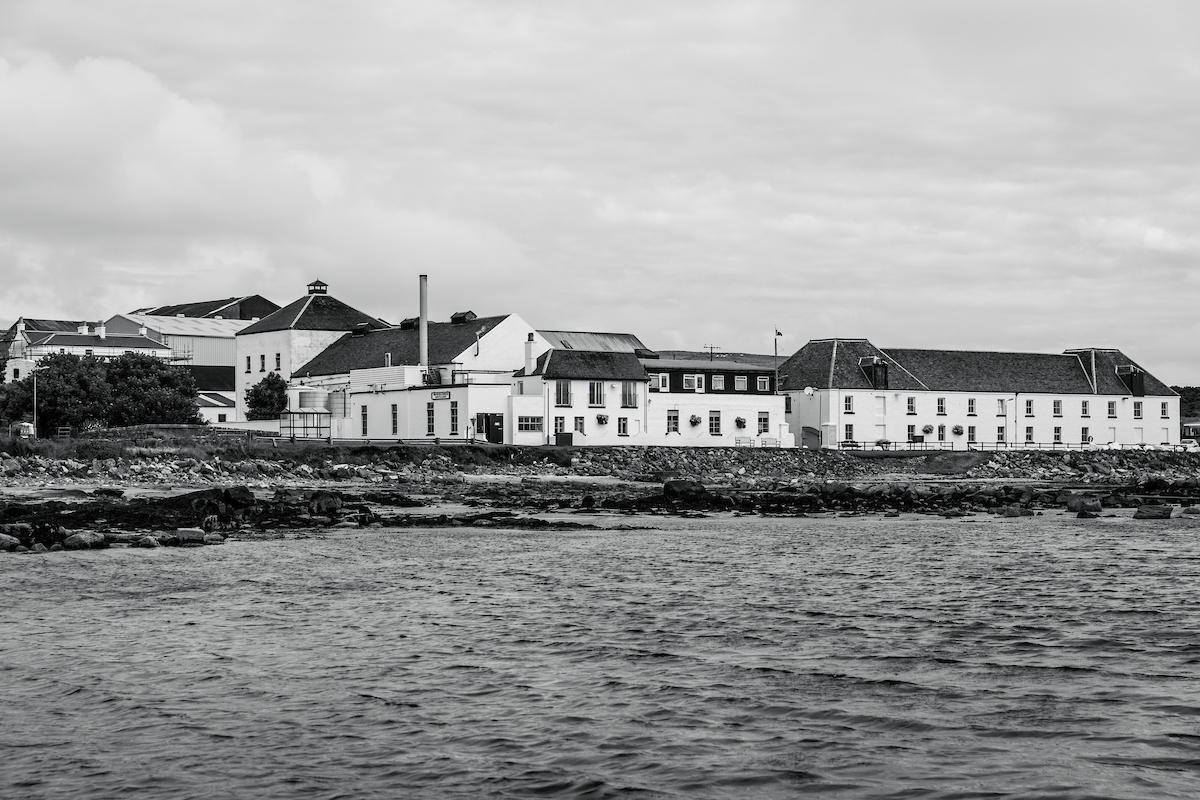 What is your opinion on the adding of e-150 in whisky and chill filtration?
Interestingly I have not given this too much thought as we have never used it at Bruichladdich since the distillery was reopened. Very simply we want our whisky to remain as natural as possible so whatever colour the whisky is when it comes from the cask as far as I am concerned is the correct colour for that whisky. Our approach to producing whisky is that we are dealing with natural ingredients and we understand and embrace the fact that from different strains of barley, different cask types, different vintages of distillation we will get different flavours so it is natural that the colour will be different.
I see no point in the adding of artificial colour to maintain a consistent appearance when we understand the joy of what we do is in the exploration and celebration of the differences we find, not in fighting against them.
How would you describe the house style of Bruichladdich?
The house style of Bruichladdich is a very light elegant style of spirit. We tend to find a lot of green fruit and floral notes and this matures very well in ex bourbon casks. We use a huge variety of casks and are very experimental in some of our choices and styles of maturation but always we know that Bruichladdich spirit matured in a first fill ex bourbon cask will never go wrong. Some of the finest Bruichladdich I have ever had have been from this very simple formula.
Guide us through the core range of Bruichladdich, Port Charlotte and Octomore.
The Classic Laddie is the core Bruichladdich expression and it is probably unique in that we do not seek to make it exactly the same from year to year and batch to batch. It will be the same style of light floral fruity whisky, unpeated and from a range of ages usually between 7 and 11 years old so as to give a good balance of vibrant younger casks and a richer more mellow character form the older casks. The variety of casks used and the type of barley is also displayed on the transparency section of our website (which can only be accessed by entering the code from a bottle of whisky after it has been bought) which helps to explain the flavour profile in each batch.
For Port Charlotte we are distilling in exactly the same fashion to get the same delicate, elegant style – the difference is in the peating level. Port Charlotte uses very heavily peated malt – as is traditional for Islay distilleries. With the Port Charlotte Scottish barley we are again looking to get a flavour profile that is light, floral and fruity and has balance with the smoky peaty notes from the barley. We do not want to produce something that is all about the peat and doesn't have the finesse we like to see in our spirit.
With Octomore it is a similar story only with the most heavily peated malted barley in the world. We are not looking to taste only the peat smoke in Octomore – again we want to get a balance between the style of our spirit, the casks and the smoke. Octomore is always a surprising single malt as the smoke tends to be the dominant flavour on the finish and is quite quiet on the nose and palate. We also release the Octomores as limited releases annually so we can see the effect the different years of harvest, distillation and batch of smoking have on each release. Again this is not about blending to find a uniform style that doesn't vary, it is about celebrating the differences we discover and discussing the reasons why.
What's your personal favourite?
My personal favourite dram, at the moment, is Port Charlotte Scottish barley. A dram you can drink anytime, anywhere. Another one that is catching my attention just now as we are working on the whisky before release is the new Octomore 8.1. The next Octomore release will be really exciting as they are all very different – but there is something eye-catching about the 8.1. It is timeless, has huge depth and I am really proud to release it.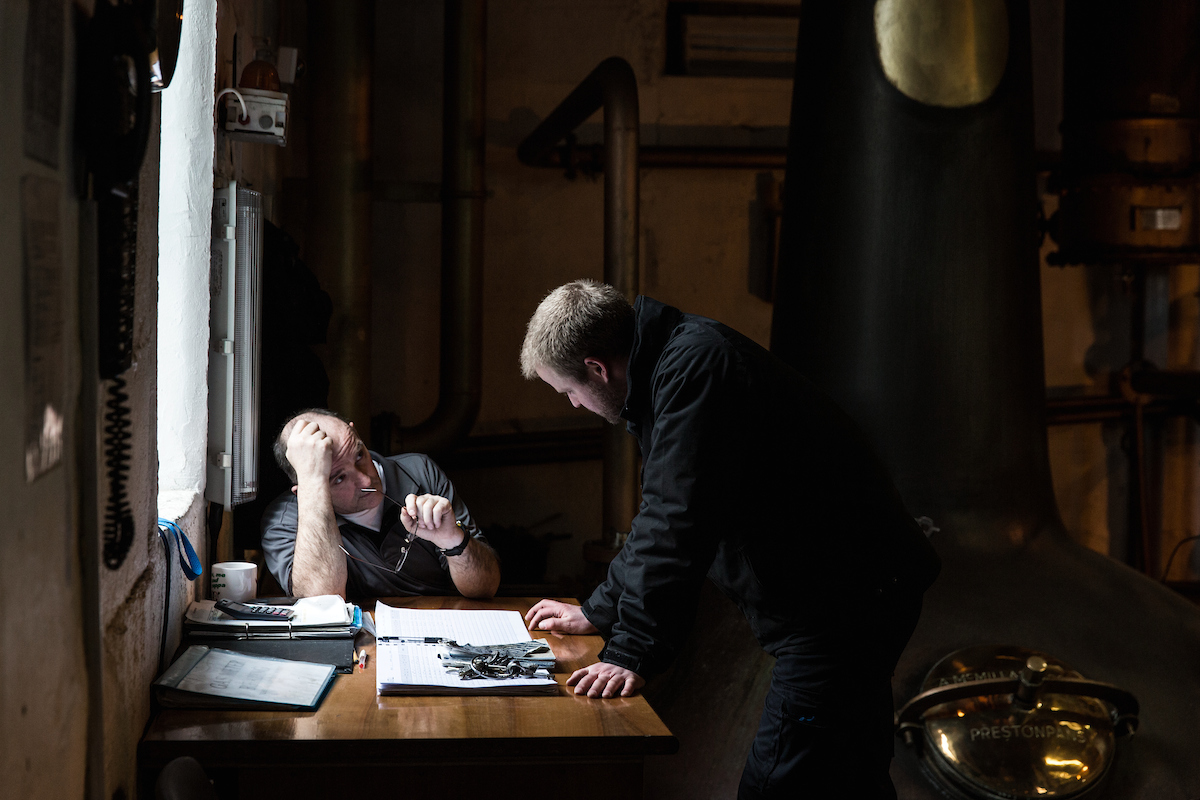 What are your three favourite drams that you have not been involved in?
That is a difficult question, to be honest there are too many to mention that I like!
Have you tried any Swedish whisky? If so, what did you think of it?
I have tried a couple from Box – they have been really very good. The good thing about whisky around the world these days is people are really focusing on their own game and doing what is right for them and the style of whisky they want to produce rather than trying to replicate another style from a different country. We know ourselves that to focus on the terroir is very important to finding an identity that is authentic.
What's on the horizon for Bruichladdich? Any news you can reveal to us?
Well we have some really exciting releases coming up soon. The new Octomore 8s will be a very interesting series of four releases and are absolutely sensational to drink. There are also some older expressions that I am looking at just now that are truly unique and the last of their kind , but I had better not say too much about that….
Slainte!